Jaipur
Jaipur is the capital city of Rajasthan state in India. It was built in 1727 AD by Maharaja Sawai Jai Singh II when he had shifted from Amber and chose Jaipur to be his new capital city. He instructed Vidhyadhar Bhattacharya to do a complete and thorough city plan for Jaipur so Jaipur is the very first planned city in India. Read here to find out more about Jaipur's history. Below is a list of attractions in Jaipur that showcases the historical side, the traditional architecture and artistic side of Rajasthan.
Attractions in Jaipur
Jaipur is full of history and legends.  It is rich in culture and heritage. Come visit Jaipur and you won't be disappointed.  The following list is arranged by their popularity.
Hawa Mahal
Amber Fort (More about Amber Palace)
Jal Mahal
City Palace Jaipur (More about City Palace Jaipur)
Nahargarh Fort
Galtaji
Jantar Mantar
Jaigarh Fort
Sheesh Mahal
Birla Mandir Temple (Laxmi Narayan Mandir)
Moti Dungari Temple
Jawahar Circle
Johari Bazar <Read more>
Chandra Mahal (inside Royal City Palace)
Albert Hall Museum
Central Park Jaipur
Tripolia Bazar
Bapu Bazar Jaipur
Sisodia Rani Palace and Garden
Royal Gaitor Tumbas
Ramganj Bazar Jaipur
Khole Ke Hanuman JI Temple
Govind Devji Temple (inside Royal City Palace)
Ganesh Pol Gateway
Anokhi Museum of Hand Printing
Aigarh Fort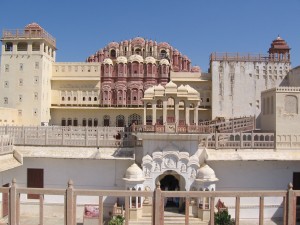 Don't you know that a few Guinness World Records were made in Jaipur.  One of them is displaced in the City Palace at the moment.  Check it out!
Related post: